'49 Cigars' was on the reverse side of the legendary single 'Hilly Fields 1892' by Nick Nicely released in 1982.
Imagine Syd Barrett era The Pink Floyd covering 'Strawberry Fields Forever' and you'll be getting close to the sound of this record.
Long time followers of my blogs elsewhere will know that I have a penchant for all things psychedelic and '49 Cigars' delivers in spades.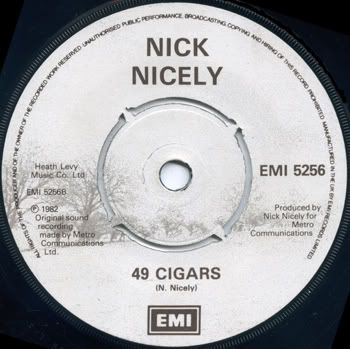 Incidentally this track was one of the influences behind my recording of 'Indigo Girl & The Blue Eyed Boy' - I'll admit that's a somewhat flattering lineage to give my song - The Pink Floyd, The Beatles, Nick Nicely - but what the heck !!!!
More info on Nick can be found here:
Nick Nicely unofficial webpage
'49 Cigars' can be heard on Nick's Myspace page here:
Nick Nicely